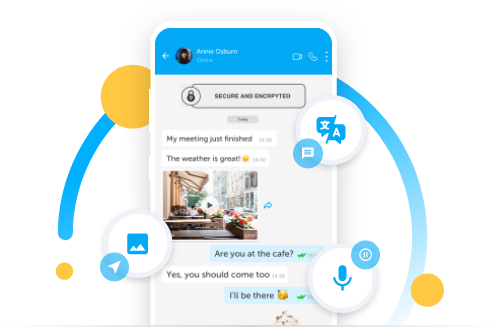 Fast & Secure Messaging
On top of one-to-one and group chats up to 1.000 participants, BiP offers free messaging, location, photo and video sharing, allowing you to stay connected with your loved ones.
With BiP, you can set time-limited dissapearing messages! Once the time is up, your messages will dissapear from both sides.
With BiP, language barriers don't exist! Simply turn on the translation feature and write your message while BiP translates it to the desired language. Received messages will also be translated instantly.
Starred Messages allow you to bookmark your important messages and keep them in one place. You can refer back to them later when needed.
Having trouble organizing your chats? Just as a mailbox, BiP allows you to organize both your group and individual chats through the 'Archive Chat' feature.
Sticker offers a more fun way of messaging, BiP offers dozens of stickers allowing you to express yourself just the way you like.