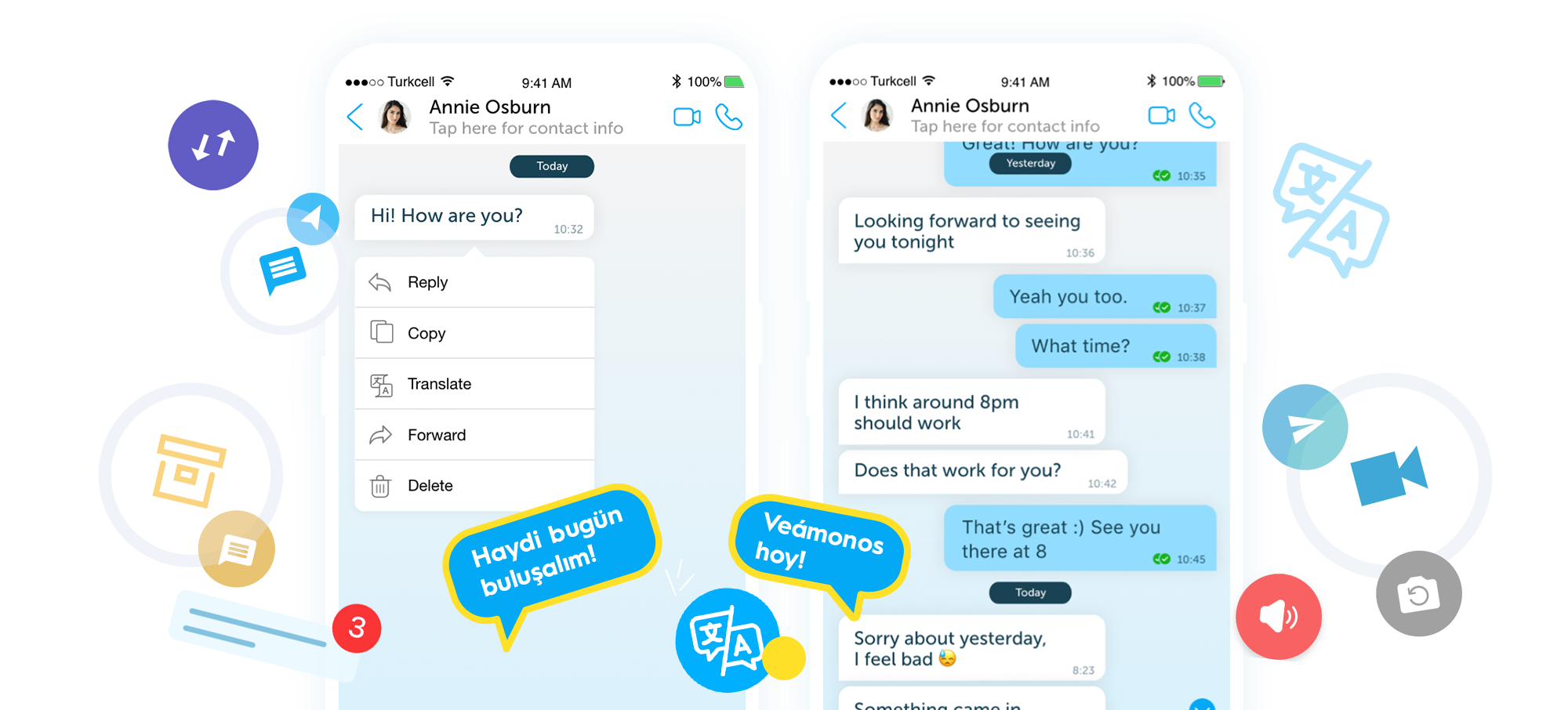 Instant Translation Function for BiP
With its translation feature in 106 different languages, BiP offers a novel experience. Message with Turkish translation from English, German, Arabic, Russian, and dozens of other languages!
What does Instant Translation mean?
You can translate your messages from more than 100 different languages into Turkish or other languages using BiP instant translation. You can easily use the BiP Language Translation feature to chat in a different language if you don't speak the language of the person you are chatting with in BiP. The following are some applications for the BiP Language Translation feature:
The capacity to translate particular messages
Chat translation capability
Incoming message auto-translation feature
Auto-translation feature in outgoing messages
Translation feature based on the Person, Chat, Groups
The main languages in which you can use BiP language translation feature
English translation
Arabic Translation
German translation
Portuguese translation
Russian translation
Turkish translation, and 102 more languages!
Instant Translation of Incoming Messages
You can select the language you want to instantly translate messages you receive while messaging with your loved ones by following the steps below.
1. Log in to the BiP App
2. At the bottom right, the More menu appears
3. Scroll down to the bottom of the list and select Settings section.
4. From Settings list, choose Chat Settings.
5. By selecting one of 108 languages in the Default Incoming Translation feature, you can have the messages you receive automatically translated.
Instant Translation of Sent Messages
BiP Instant Translation feature can be selected specifically for person , chat, groups! Simply follow the steps below to enable the translation feature through the person or group you are messaging
1. Point to the person, chat, or group you want to transact with
2. Full swipe from right to left
3. View "More" and "Group Info" / "Contact info"
4. View "Translation settings"
5. Change the incoming automatic and outgoing instant translation buttons to "ON"
Use your original keyboard for the best translation experience. Messages sent or received from the place you chose will now be translated into the language you want right away.
Continuous Dialogue with Glomo Award-Winning Instant Language Translation function for BiP
BiP ,a mobile application that has been downloaded by millions of users in Turkey and 192 other countries and can be used without an operator, has distinguished itself as one of the grand prize winners at the Global Mobile Awards (GLOMO), which are run by the GSMA. BiP won the Most Innovative Mobile Application Award at the Global Mobile Awards for its ability to translate instantly.